Welcome to Foot Surgery Services
Foot surgery services are provided by Tim Kilmartin FCPodS, PhD and Claire O'Kane FCPodS. We are NHS Consultant Podiatric Surgeons who have been providing NHS and private foot surgery since 1994.
We are located in Kingsbridge Private Hospital, Belfast, Woodthorpe Hospital Nottingham,, Hillsborough Private Clinic near Belfast, N. Ireland, North West Independent Hospital, Ballykelly the Health and Foot Clinic, 65 Carlisle Road Derry, Ilkeston Hospital, Derbyshire, and Ballymena Health and Therapy Centre. (see locations)
Podiatric Surgeons are trained specifically in the management of foot problems. They are not medical doctors but have specialised in the non surgical and surgical treatment of the foot. Training takes approximately 11 years. If you require medical management of your condition we will refer you to an appropriate specialist.
Over 18,000 evidence based foot operations
Between us we have performed over 18,000 foot operations. Our approach is always evidence based and to that end we have audited and researched every aspect of the foot surgery that we offer. Our surgical results and outcomes are now widely published and we are happy to share them with you, just click here, or hit the publications button.
No overnight hospital stay necessary
The majority of the foot surgery that we perform is under local anaesthetic and none of our patients require an overnight stay in hospital. The most common operations that we perform are bunion and hammer toe corrections. Please click the links, or view details of these and other conditions described on subsequent pages.
We have helped thousands and thousands of people to achieve a quality of life that many of them had thought was gone forever.
Please click here to read what some of our recent patients have said about the Foot Surgery Services experience.
Before and after bunion surgery by Foot Surgery Services: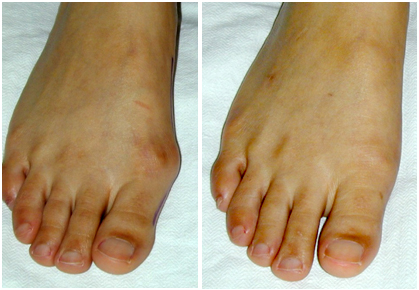 Cosmetic foot surgery.
Many people manage their foot problems by being very selective with shoes and keeping their feet covered at all times. In this way they may keep their pain to a minimum but it has a real impact on their quality of life. Foot surgery can offer a lot for such problem feet. Please click here
Sports injuries. In Gaelic football, soccer, rugby and running, foot and ankle injuries can seriously restrict a player's ability. With long experience of dealing with such injuries we have found that many are a result of training errors or problems with muscle flexibility. Most will respond well to simple non surgical treatments.
For recently added video footage of the procedure for Cartiva Implants, please click here
For footage of arthroplasty/ hammer toe surgery, please click here
For video of bunion surgery, please click here
For a short slide-show on joint resurfacing, complete with comments from people who have undergone the procedure, click here
Please check the 'contact us' section for instructions on how to arrange an appointment at your most convenient location.
For an outline of prices/ fees, please click here
Skype/ Internet Consultation

s

We would be very happy to arrange a skype consultation. We can arrange a convenient time and date by email and ask you to organise your computer so we can view/ examine your foot during the consultation. Sending X-rays or MRI photos by email before the consultation will also help you to get the most out of the session.

Consultations are paid for in advance by electronic transfer.
To arrange skype consultation please email:okane@footsurgeryservices.com
www.feetforlife.org/foot_health/surgery.html